Home > Metodo Ganimede® > Cold Pre-fermentative Maceration
Cold Pre-fermentative Maceration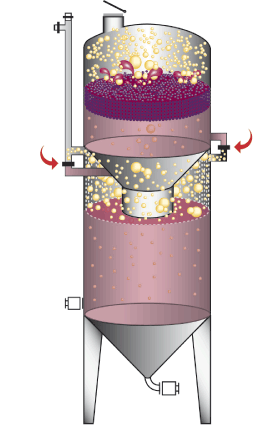 Bypass
closed
Cold Pre-fermentative Maceration for red wines: more color and fruity flavors!
Metodo Ganimede® is particularly suitable for the cold pre-fermentative maceration of red wines. This technology allows obtaining more aromatic and coloring substances-rich wines
The dissolution of CO2 offers a good antioxidant protection of must and facilitates a better extraction of water-soluble compounds (mainly chemical precursors of anthocyanins and aromas).
Moreover, the injection of gas below the diaphragm allows a good homogenization of the must, without using pumps. If a more vigorous stirring is necessary, just open the bypasses. The exchange between liquid and skins ensures right from this preliminary stage a rich extraction of tannins, which quickly polymerized with anthocyanins, thereby ensuring stability that otherwise could not be obtained.
The final result is more fruity wines with softer tannins. Given that there is no passage through the pump (and therefore grinding of the product is prevented) the risk to extract herbaceous and bitter components is virtually inexistent.