France: the great success of conversions of traditional tanks in Ganimede® continues.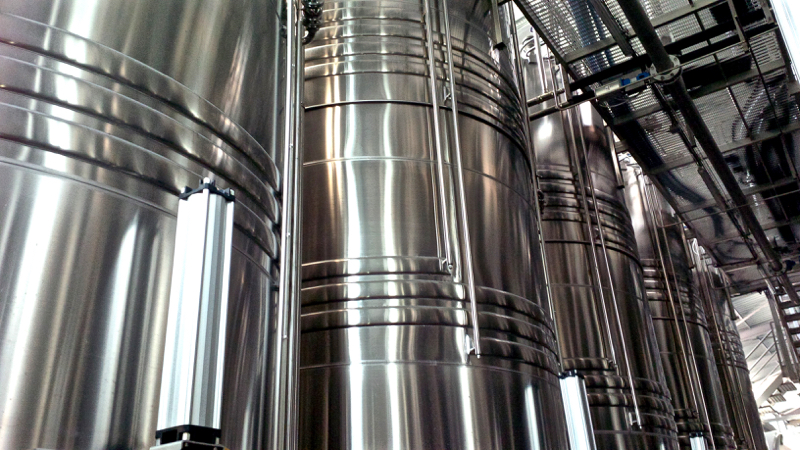 Alsace: the Bestheim Winery is a cooperative winery established in 1765; today it counts hundreds of hectares of vineyards on a mosaic of different terrrains and it represents one of the best renowned references in the panorama of the alsatian wines.
Recently the winery has merged with the Obernai winery and it has built a new vinification site in Bennwihr with a surface of 7,500 squared metres and a capacity of about 130,000 Hl.
In this brand new winery, in 2014, they decided to install three different types of vinification, with tanks of 43,000 liters each; n. 4 traditional tanks with pumping over system, n. 3 tanks with automatic plunging down (pistons) system and n. 3 Ganimede®.
After the first comparative results obtained during the first vintange, the Cave de Bestheim immediately decided to modify n. 2 out of 4 existing traditional tanks, by inserting the Ganimede® technology inside them.
The work has been recently finished (June 2015), it lasted 5 days and it has been conducted by a specialized team of workers.
They firstly inserted and welded, inside the tank, the slices of steel (one by one) forming the characteristic "funnel diaphragm", heart of the Ganimede® method; then they installed two bypasses valves, the electric control panel and all the necessary connections, tranforming in this way the traditonal tanks into true Ganimede® systems.
What happened at Besteim winery is simply emblematic. The initial choice to have different vinification technologies at disposal has been, just after the first results, redirect towards the Ganimede® method by converting the existing traditional tanks they purchased a year ago.
The conversions in Metodo Ganimede® (we've already done more that 350 conversions with different capacities from 2,000 to 150,000 liters) represent a great opportunity to renovate and innovate the winery, by improving both end quality results and energy/logistic cost savings.
Not only in France but in many different countries, wineries decided to exploit this opportunity that has allowed them to become much more competitive.